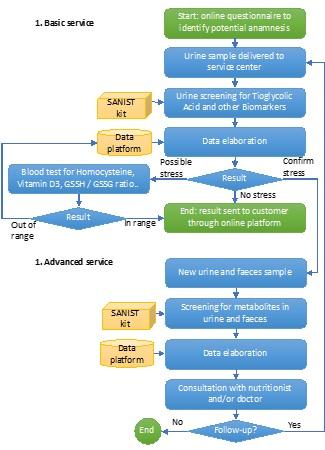 The SANIST solution will be provided as a service by certified clinical centres applying the process shown in Figure 2. The process is based on two main services, both provided through the same integrated platform:
Basic prevention and therapeutic follow up service based on Oxidative Stress evaluation
The oxidative stress (OX) has been shown to be propaedeutic to the development of different degenerative diseases. OX will be evaluated in two steps: 1) a first screening step on urines, that are easy to collect, to be massively extended to the entire population of patients and 2) a second confirmation step on blood samples. The urine samples will be sent to the clinical centre. Here they will be screened using the SANIST technology application kits to quantify the urinary thioglycolic acid level (a well-known marker of oxidative stress so far only applied in work medicine) together with a set of biomarkers correlated to cancer and degenerative diseases development or progression.
Advanced prevention service based on intestinal dysbiosis evaluation
Patients found positive to oxidative stress test will be investigated for the potential presence of intestinal dysbiosis so to ascertain the presence of intestinal bacteria able to activate biological mechanisms leading to oxidative stress. SANIST application kit will be employed to correlate intestinal dysbiosis with metabolic molecular disorder for prevention and therapy follow up purposes (step 3). It is so possible to identify the toxins by means of specific database search and connect them to the pathogenic intestinal bacteria. Clinical centre experts (e.g., nutritionist) will use the provided information to define specific therapeutic protocols to equilibrate the intestinal dysbiosis and prevent or treat the degenerative diseases associated with the dysbiosis.
State-of-the-art:
Solutions for degenerative diseases prevention found in state-of-the-art are mainly based on physical and biological evaluation. Physical approaches include mammography, xRay analysis, magnetic resonance and similar methods. Biological approaches are based on biological interaction, e.g., detection of circulating cancer cells. Despite the sensitivity and selectivity of each of these approaches, they are in general not useful for early stage diagnosis of diseases, that are mostly discovered in medium or advanced stages. This is mainly due to the intrinsic technical limits of the employed techniques. The physical methods like xRay and magnetic resonance make use of radiations or electromagnetic fields, detecting their interaction with tissues to discover tumours or other lesions. The main limitation is that a minimal dimension of the lesion area is needed for the detection[3]. Even in this case a minimum number of absorbing molecules are necessary to obtain a defined image, limiting the application of this technology in early stage disease detection and prevention.
Most of the biological approaches employed routinely make use of physical detection technique (e.g.: light absorption or emission) that also exhibits sensitivity and selectivity limits, therefore they are mainly used for metastatic progression evaluation[4].
Finally, the cited physical and biological approaches are essentially devoted to the cancer diagnosis and are not suitable for the detection and prevention of other degenerative diseases like neurological ones (e.g.: multiple sclerosis, lateral amyotrophic sclerosis), autoimmunity etc.
SANIST Vs. State-of-the-art:
The SANIST platform is based on mass spectrometry technology that has seen a strong diffusion, in the clinical world, in the last 10 years. Thanks to its higher selectivity and sensitivity, due to application of the electromagnetic physical phenomenon used in mass spectrometry to detect metabolites charged ions produced by ionization source, Normally, the bacteria present in faeces produce toxins that are absorbed by other bacteria or wasted through faecal material. When an intestinal dysbiosis occurs, an excess of toxins produced by the pathogen bacteria are absorbed in the body and after provide body damages are wasted in the urine. SANIST employs the innovative SACI/ESI application kit ionization, proprietary of ISB, to increase the mass spectrometric sensitivity so to enhance the detection of human or bacteria metabolites correlated to the degenerative diseases. SANIST is thus able to finely detect the human and bacteria metabolism and to connect it to diseases prevention.
With respect to the classical technologies for the detection of bacteria and to the related toxicology SANIST is able to detect the bacteria with higher rapidity and efficiency and in the early stage of the dysbiosis. The usually employed kit used in clinic procedure are able to detect the bacteria only when their grown is advanced and the patient health is compromised. With SANIST it is possible to detect the presence even of few bacteria that will lead to the disease symptoms in the future, so acting at prevention level. No technology before SANIST has been able to achieve this goal. Table 1 shows the comparison between the technology benefits and applicability: